You can send your Clients an Email, containing personalized content. This allows you to have direct contact with your Clients.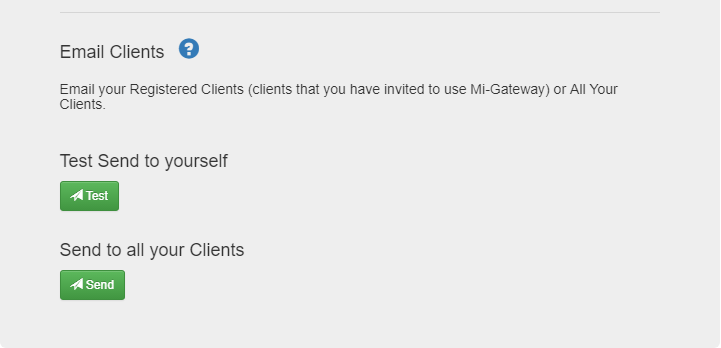 Start by doing a test send to yourself by pressing the Test button. Once sent this will show you an example email of what your Clients will receive.
To add a message to the email, expand the Email Message drop down. Create your custom message. Note that this email has no Mi-Plan branding, so it is suggested that you add your own company signature.
Once you have finished editing, press the Send button and review your test Email in your inbox.
If you are satisfied with your Test Email, then  press the Send button on the Email Clients section of the Reports page.
Select which Clients you wish to send the Email to by selecting one or multiple options. If you wish to send to all clients, select all options. Drop down Email Message to edit/view your original message. Drop down Email Recipients to view the list of recipients that will receive your email. Press the Send button to send this email to all of your selected Clients.
6. Once your email is sent, you will receive a summary report via email. This report contains the content of your email and lists the recipients. This is shown below.